What is WoW Quest Text Reader?
WoW Quest Text Reader is a simple Windows application that together with a small WoW addon can read (out load) your last selected quests description/objectives or open NPC quest dialogs when playing World of Warcraft. This is done using text-to-speech technology.
This is the perfect application when you want to learn more about the story behind each quest but you rather play the game than read quest texts. Now you can just grab those quests and start riding or flying to the next quest location while listening to the story of the quests. It's also a perfect tool for those who have trouble reading because of dyslexia or problem with eye sight.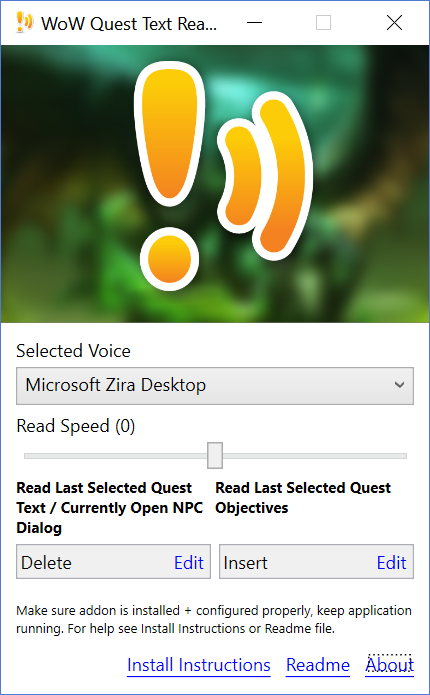 How does it work?
When playing WoW and you want to enable reading of quest texts you simply launch the WoW Quest Text Reader application. It must always be running to enable reading of quest texts since there is no text-to-speech engine built into World of Warcraft. If it is the first time launching the application you will be prompted to install a small WoW addon. The addon is not responsible for reading the quest texts instead it's job is only to grab the last selected quests description and objective text so it can be copied to the application. This is done using the Windows clipboard and is the only allowed way of copying data between an external application and a World of Warcraft addon (so no hacking, reading in-game memory etc is used). This is a method used by many addons. To make the process simple you don't have to copy the text from WoW yourself, this is done by the external application when you press one of the application hotkeys. The Wow Quest Text Reader application will send a Shift-F11 or Shift-F12 command (for updating the data, this must be configured properly see installation instructions) and then a Ctrl-C, Ctrl-V command to copy this data to the clipboard, where it can be read using text-to-speech. This should all be invisible to the user.
Installation instructions (or watch the video)
Install + launch the application.

If prompted select your WoW install directory. This step will be skipped if wow.exe was installed in the default World of Warcraft folder in program files.

Install the "WoW Quest Text Reader" addon by clicking the "Install AddOn" button.

Launch WoW and enter the regular keybindings menu. In the list to the left find and select "WoW Quest Text Reader".
Bind "Read Quest Objectives" to "Shift-F11" and "Read Quest Text" to "Shift-F12". This is a very important step! Don't use any other keybinding.

Start using (see usage instructions)!
Usage instructions
Make sure application is still running!

Inside World of Warcraft you can select and have quest text read to you in two different ways:

From an open quest dialog from an NPC. For example before accepting a quest or when selecting your quest reward.

From your quest log (including the objectives list and world map). If you don't want the quest on screen you can simply click it once then close it. It will still be consider the last selected quest which means it can be read to you.
Because of limitations to WoW, quest reward texts can only be read when open in a NPC dialog.
Click one of the application hotkeys (NOT addon hotkeys Shift-F11/Shift-F12), defaults are "Insert" and "Delete". If everything was set up correctly the quest description or objectives will be read out loud! If you wish to stop the reading simply press the same hotkey again.
Enjoy!
(Or if you can't get it working check the FAQ and troubleshooting section in the Readme file)